Celebrating the New Year Hawaii Style
Every other year, I head off on a New Year's adventure to a destination that is generally warmer than my native Washington, DC. So to ring in 2015, the Mister and I flew direct (10 hours) to Hawaii and shed our winter layers to experience sun and surf.
Earlier in 2014, we were in Hawaii to celebrate my mom's birthday and since we had been previously during a time when I was still in contact with my office and clients, I was waking up at the crack of dawn (as early as 4:30am) to work with the 5 hour time difference. This time, I got to sleep in late (7:30am!). I think the latest we headed down to breakfast was 9:30am (we're such rebels!).
Since we have a history of flying out on Christmas Day, we boarded our flight out of Dulles and settled in for the ride. When we arrived to Honolulu, it was still Christmas Day even though it was technically already 7:30pm in DC. That time zone thing that they've mentioned about Santa Claus using it to his advantage, I now totally understand! We pulled up to the Royal Hawaiian and were greeted with his and her leis. It was quite busy in the lobby so while the Mister stood in line to register, I admired the festive Hawaiian style decorations. The staff felt badly that people were waiting for their rooms so they walked around with miniature brownies to show how sweet they were on us staying there 🙂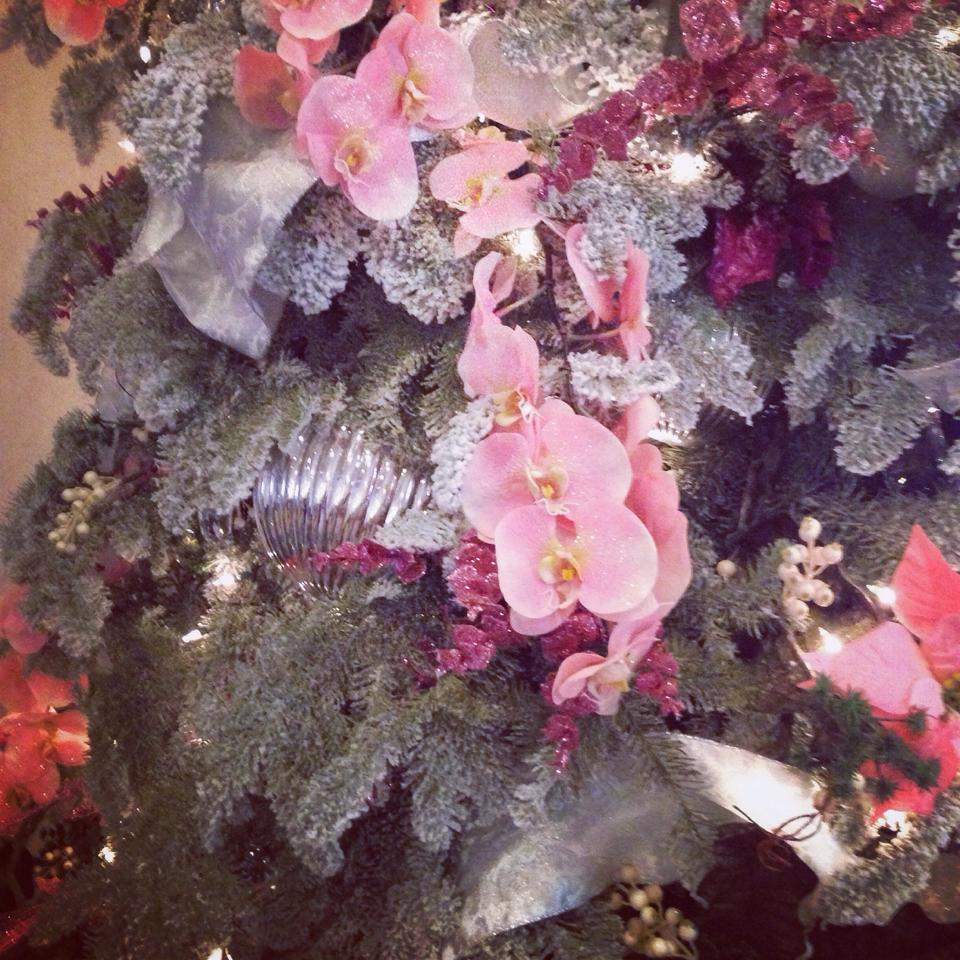 Isn't this guest room door gorgeous??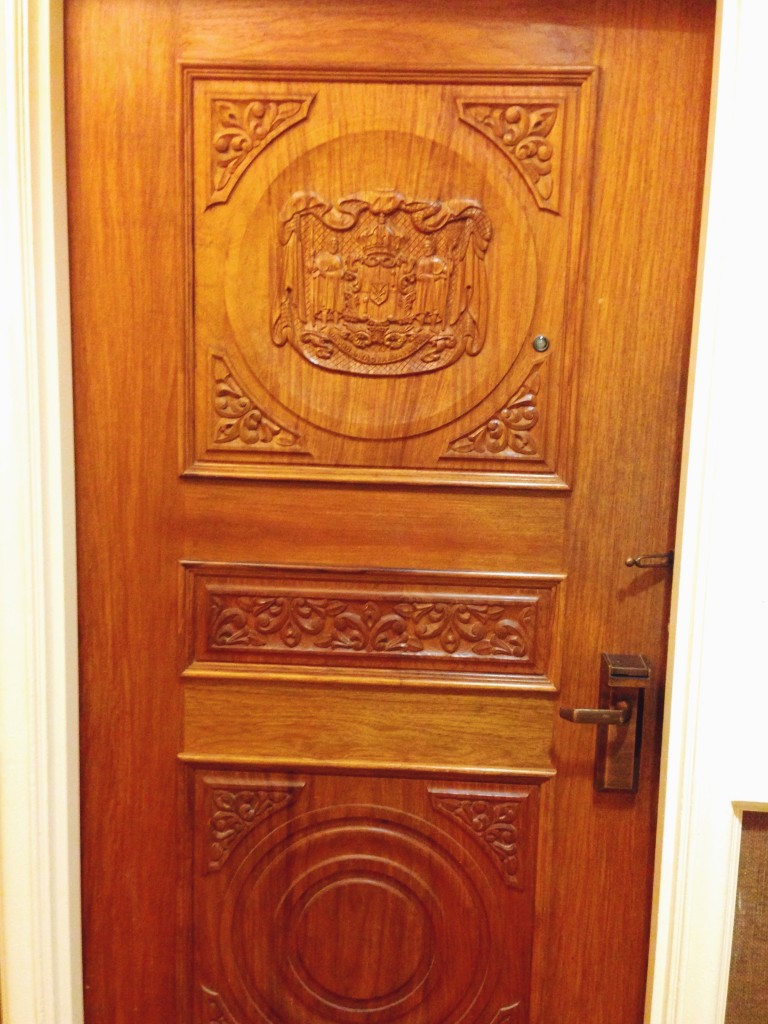 The beautiful map in the elevator bay.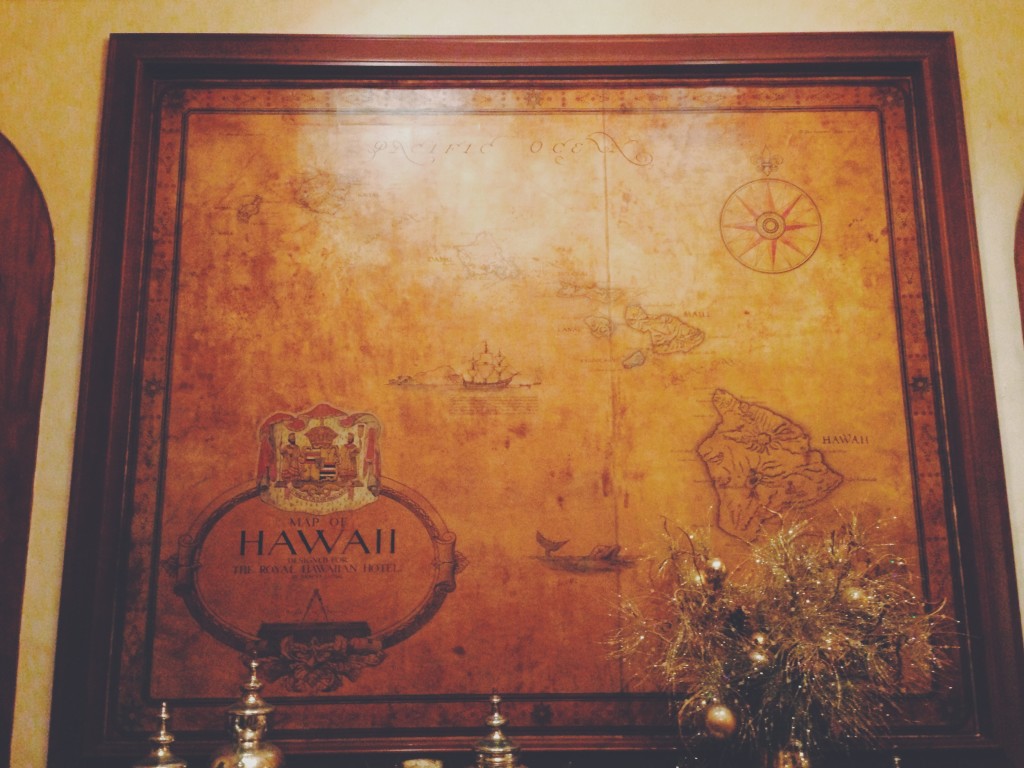 We had reservations at the hotel restaurant for Christmas Day dinner and we began relaxing at the Mai Tai bar, enjoying our beverages and the view of Diamond Head. It was definitely a lovely way to spend the day.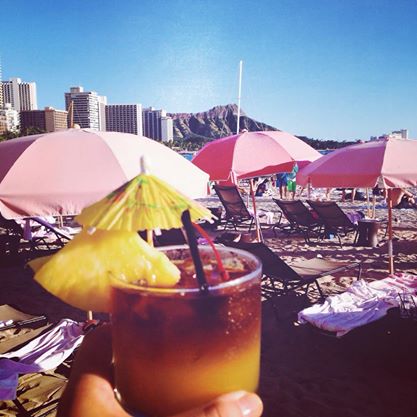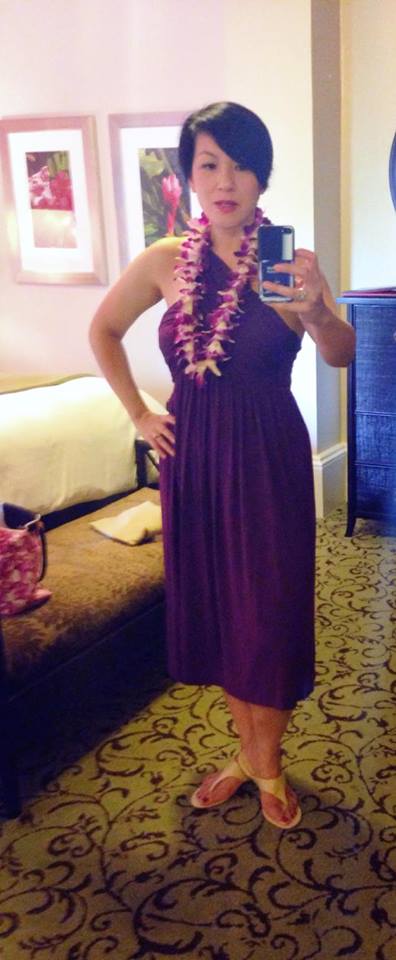 Our final hours of Christmas Day:
After dinner, we spent the evening walking along Kalakaua Ave. where I was surprised to find an enormous amount of people out and about. It was Christmas Day! I thought everyone would be home (when we're in DC, we don't leave the house!!) but I guess all the tourists wanted to spend as much time outside so the stores were open and willing to accept all of that tourist cha-ching.
Can you believe that my 2 previous trips to Hawaii would only last 3-4 days? We'd fly there and basically turn around to fly back! As a result, the list of things that we wanted to do was long! We started the morning with malasadas at Leonard's Bakery. There was a line (to be expected since it was a holiday break) but it moved swiftly and we brought back our fried treasures to the hotel so that we could enjoy them while looking out onto the beach. That famous pink box is a noticeable icon so as I sashayed through the hotel, the local wait staff exclaimed, "Leonard's!" as I walked by. When I was little, I enjoyed my fair share of jelly donuts and as I've gotten older, I'm more inclined to enjoy a more restrained palate. However you subscribe, you can get both styles and be perfectly happy!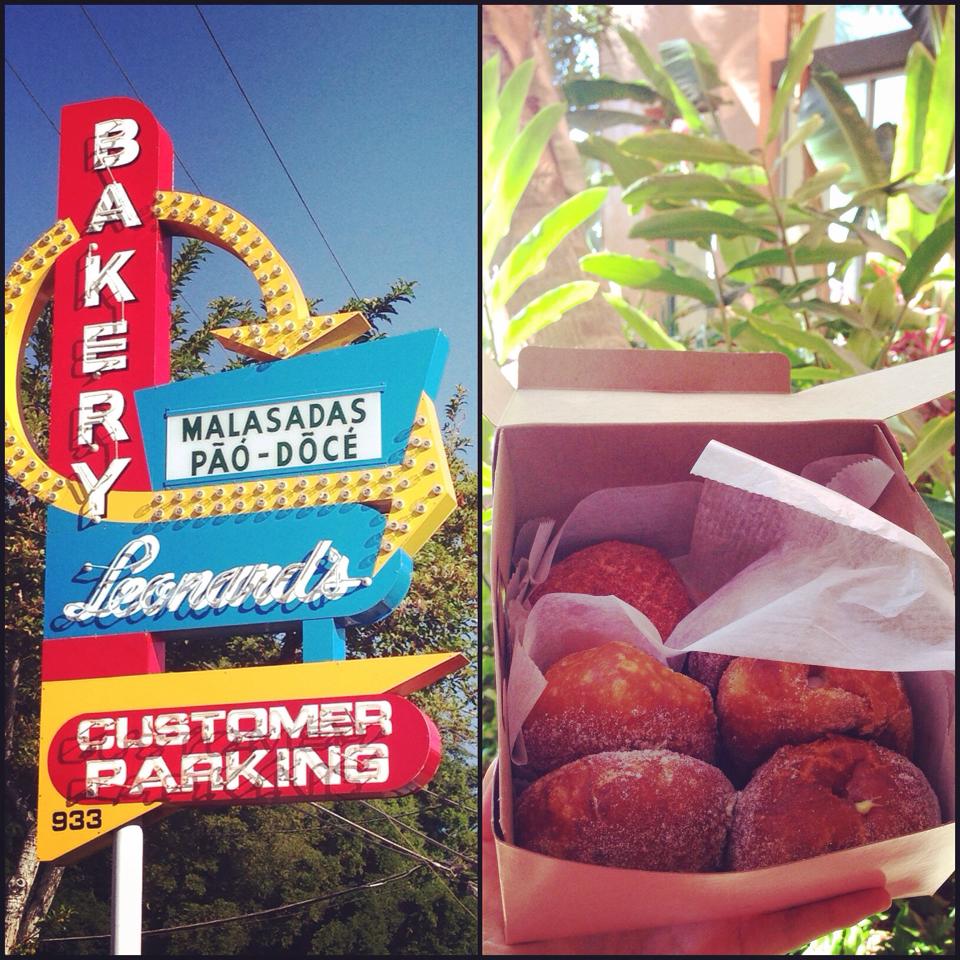 A few hours later, I was ready to get back on the surfboard so I made my way to the Duke's statue and waited for my instructor, Chris to meet me. I met Chris on my last visit and called to see if he would be available to take me out again. With very short notice, we were in the warm water of Waikiki Beach (although Chris thought it was freezing!). I wore a short sleeve rash guard and that's much better than when I'm wearing a wetsuit. I'll take that any day! If you ever want to get an instructor, give him a call – he's great! C'mon if he's game to wear a Hello Kitty rash guard, he's cool 🙂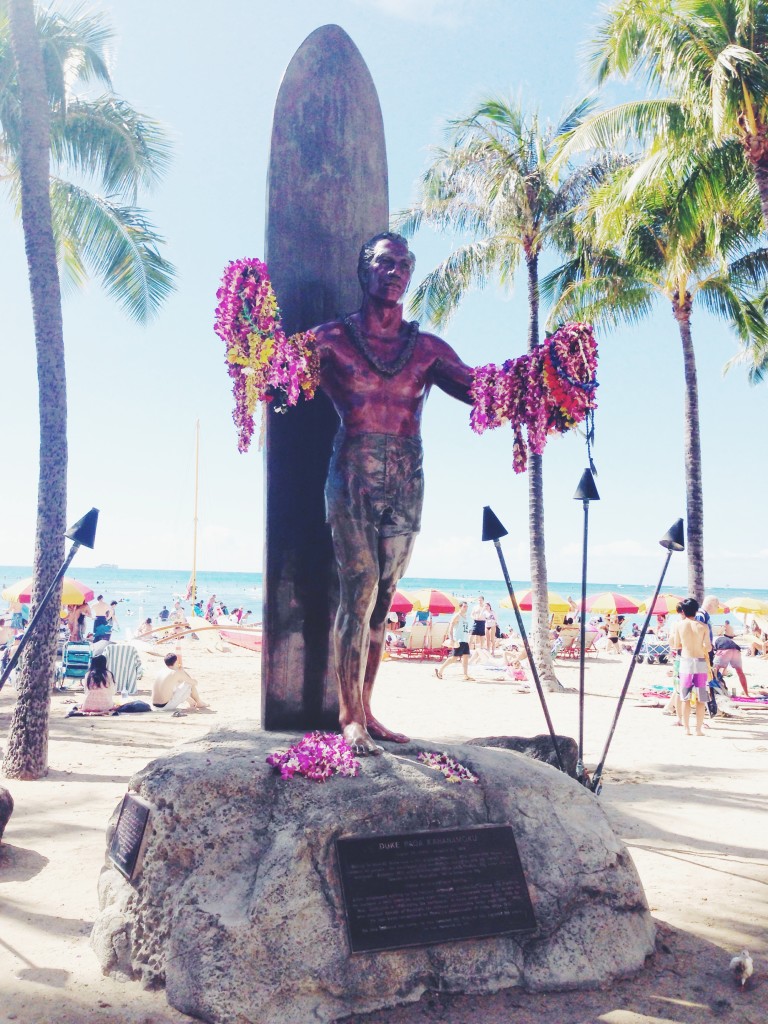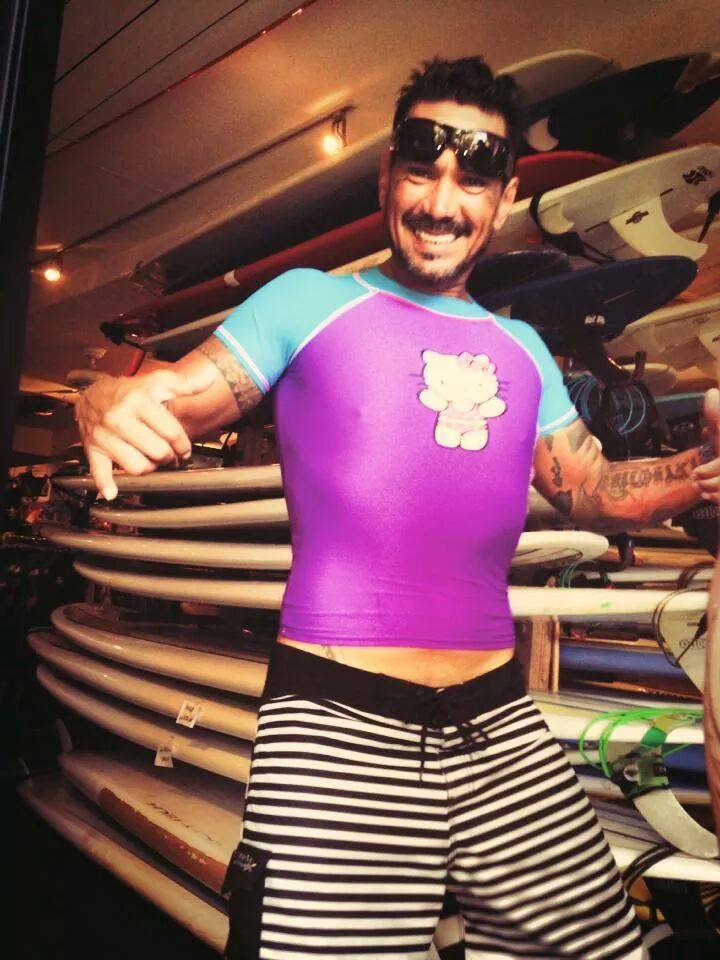 After having been in the water for nearly 2 hours, I was ready for lunch! So after getting  washed up, the Mister and I walked a few a blocks for ramen at Ramen Nakamura. Where we stood in line again. So every time someone talks about standing in line for places that don't take rezzies, I'm already living the life! This joint is known for its oxtail soup (left) so I went with that while the Mister went for the miso ramen (right).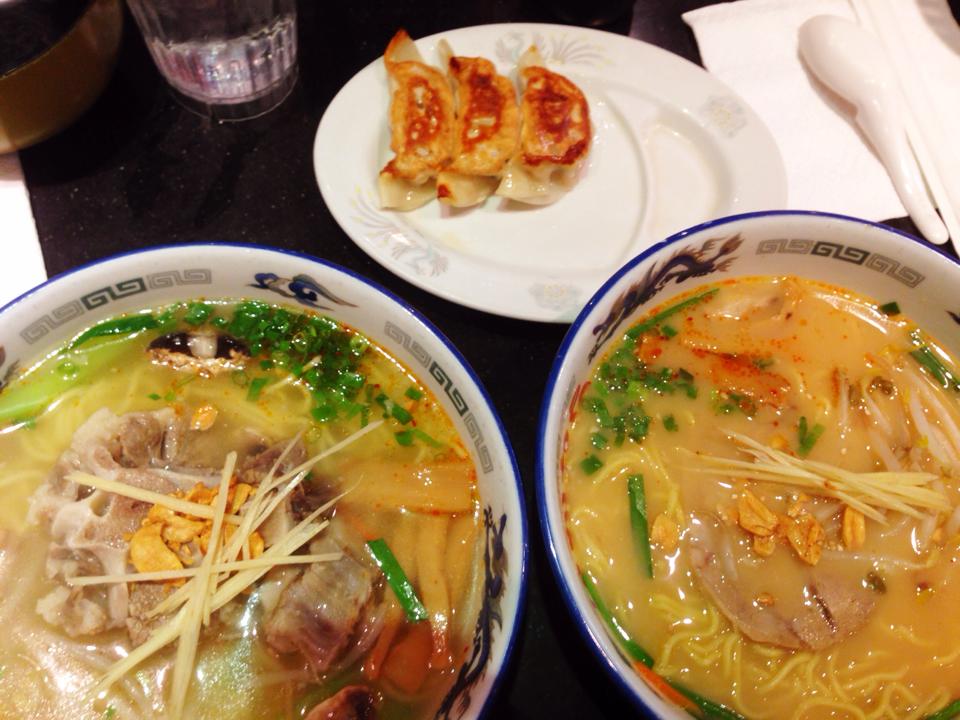 You would think that Hawaii didn't have any other sights other than restaurants but I promise we did other things than eat! We certainly walked around the beach and the main strip but honestly, part of the decision of going to Hawaii is so that I could just eat!
One of my favorite places to go is Side Street Inn. It is so local, I love it. It reminds me of an old school New Orleans bar because everyone knows everyone and it's so no frills. They serve their beer cold and their food ONO. One of the dishes that I dream about and I'm serious when I say that I dream about it because I'm so in lurrrve with the rice kernels. Separate and firm without being mushy. I'm talking about the fried rice with the works. Order it and enjoy every single bite. Portion size is HUGE so it's meant to share but you'll not want to share (I'm an only child, sharing is a foreign concept – LOL). We also got the poké and we were greeted at the bar with a complimentary kalua pork slider – serious #nomnom.
Since we were there on a Saturday, I had to go to make a visit to the KCC Farmers Market. This time, I convinced the Mister to take public transportation and you will find that it's super easy to use. Living on the east coast, I'm reminded that due to weather, we have an abbreviated farmers market schedule but when you live in Hawaii, farmers markets abound on a rather timely schedule. The KCC opens at 7:30am and people get there EARLY! We got there at around 8:30am and it already had quite a crowd.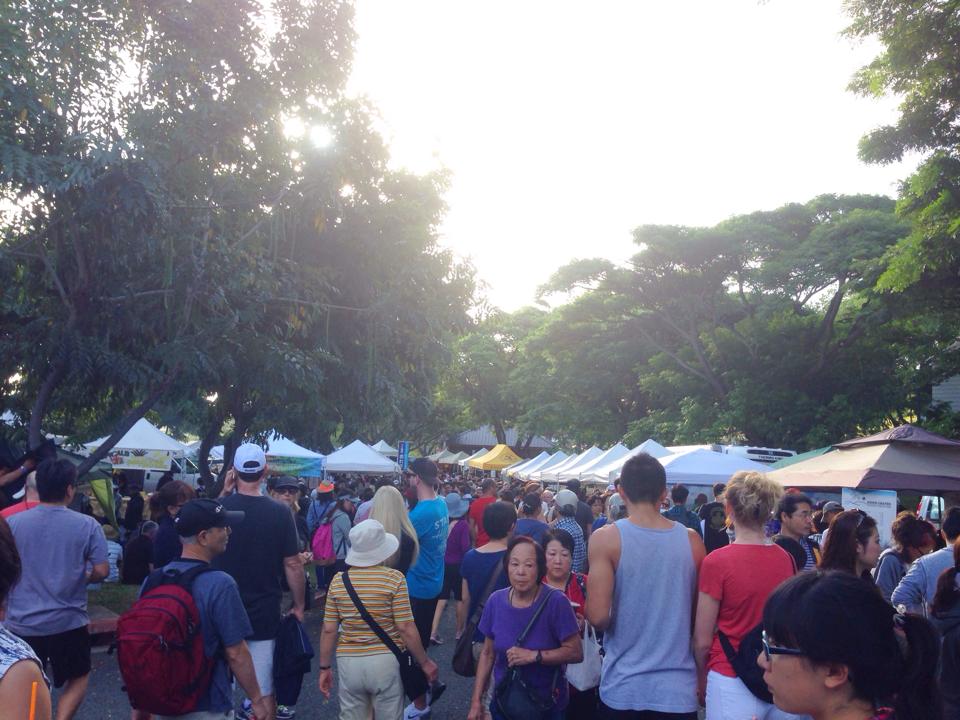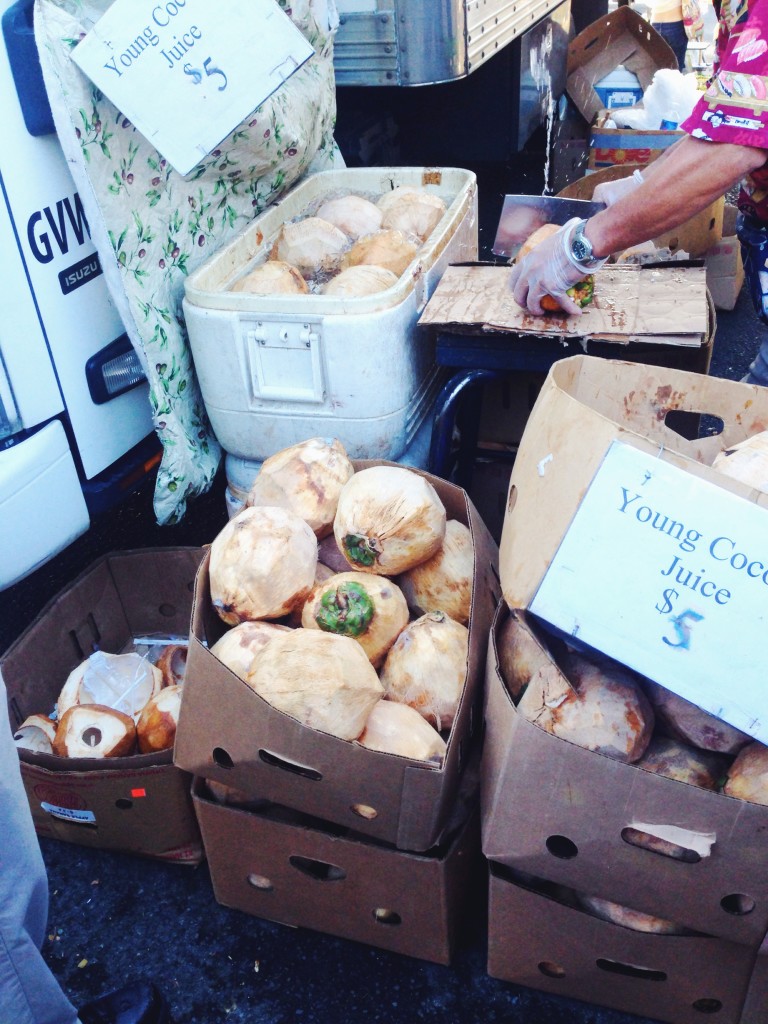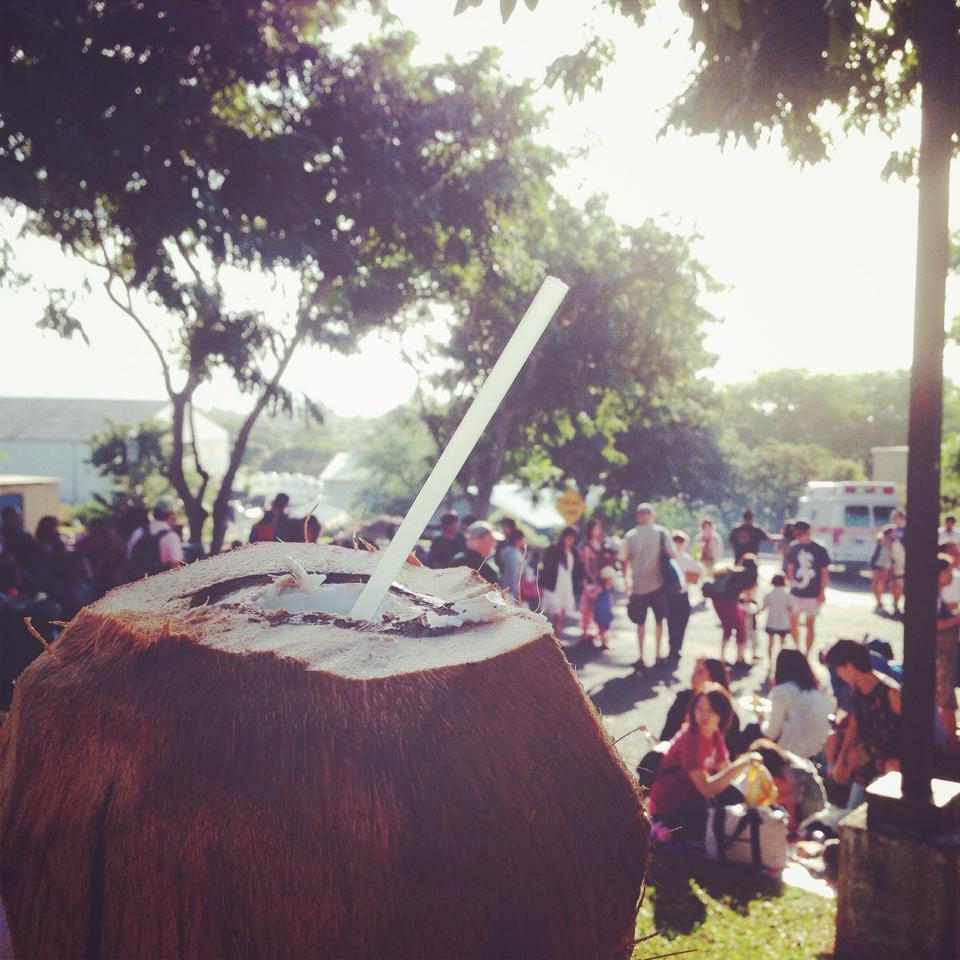 Of course, I ate while I was at the KCC (seriously, did you think this would be the exception?) but I managed to restrain myself by ordering just a few items.
The Pig and the Lady specializes in Vietnamese/Asian cuisine and its chef, Andrew Le has quickly become quite notable. I haven't had a chance to eat at his restaurant but have enjoyed his creations at the KCC.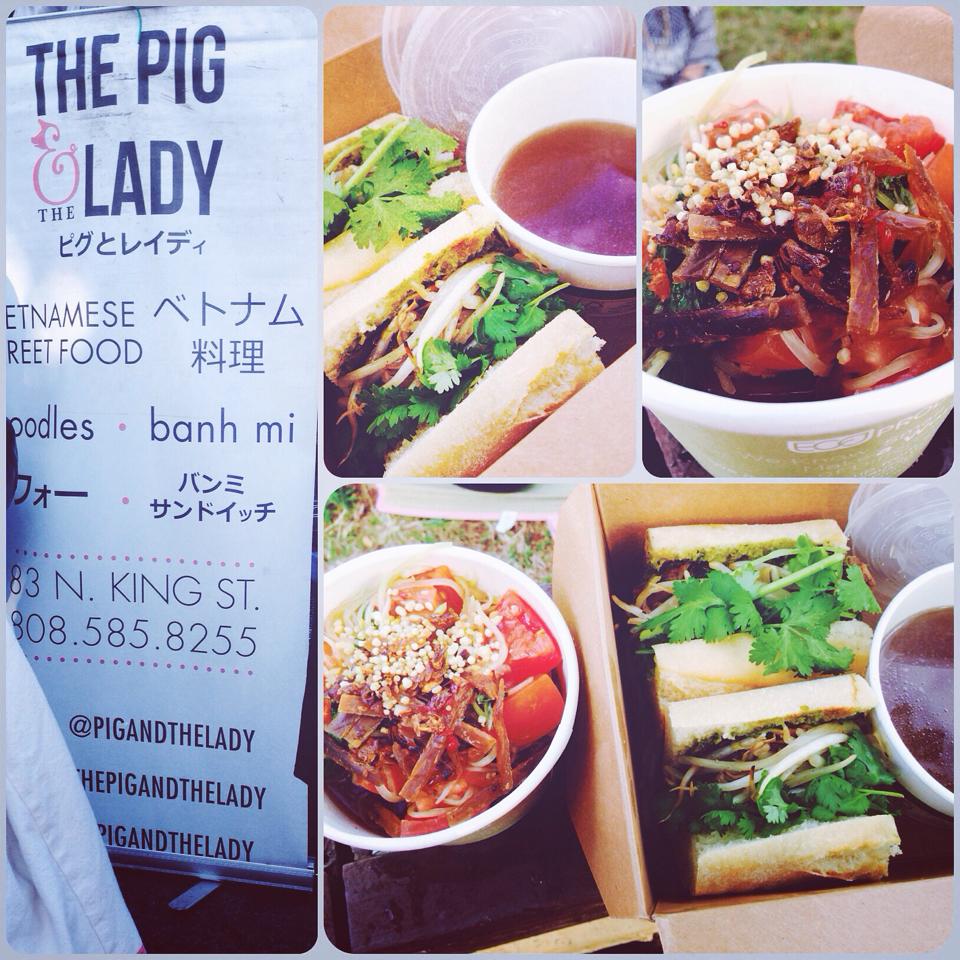 There are so many great stalls and I was especially intrigued with the selection of lavosh! There's not just food but also flowers and juices as well as fascinating things to see.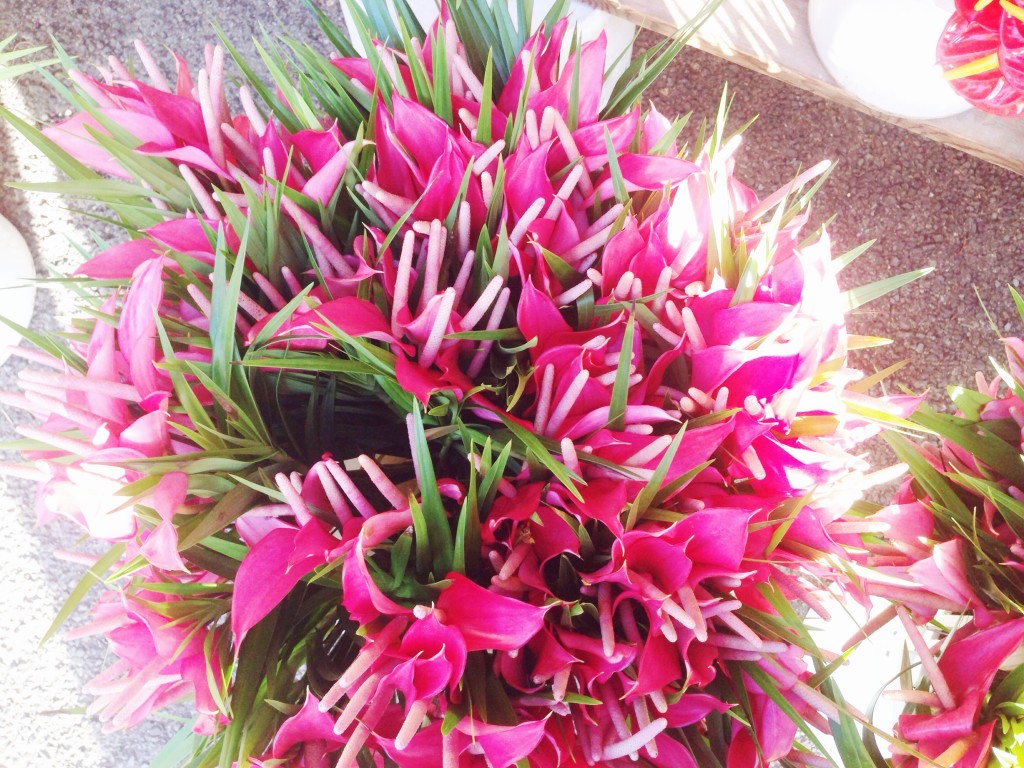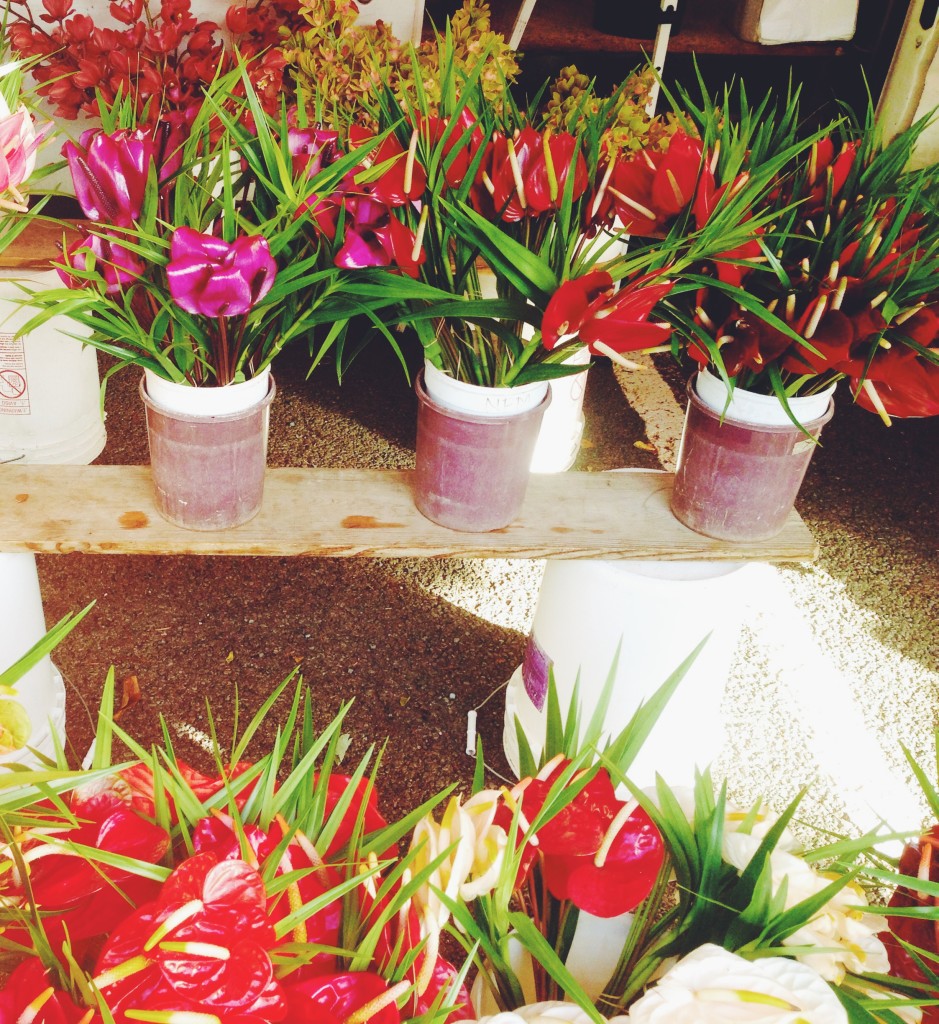 Later we met up with friends at Koko Head Cafe and I wanted to eat everything off the menu!! It was amazing. The chef is Lee Anne Wong, one of the final four contestants from Season One of Bravo's Top Chef. We started with dumplings and our friends got a beef tongue plate and an ahi poké omelette. While I got the pork belly (big surprise!) and the Mister got a lamb curry w a poached egg, which packed some serious heat!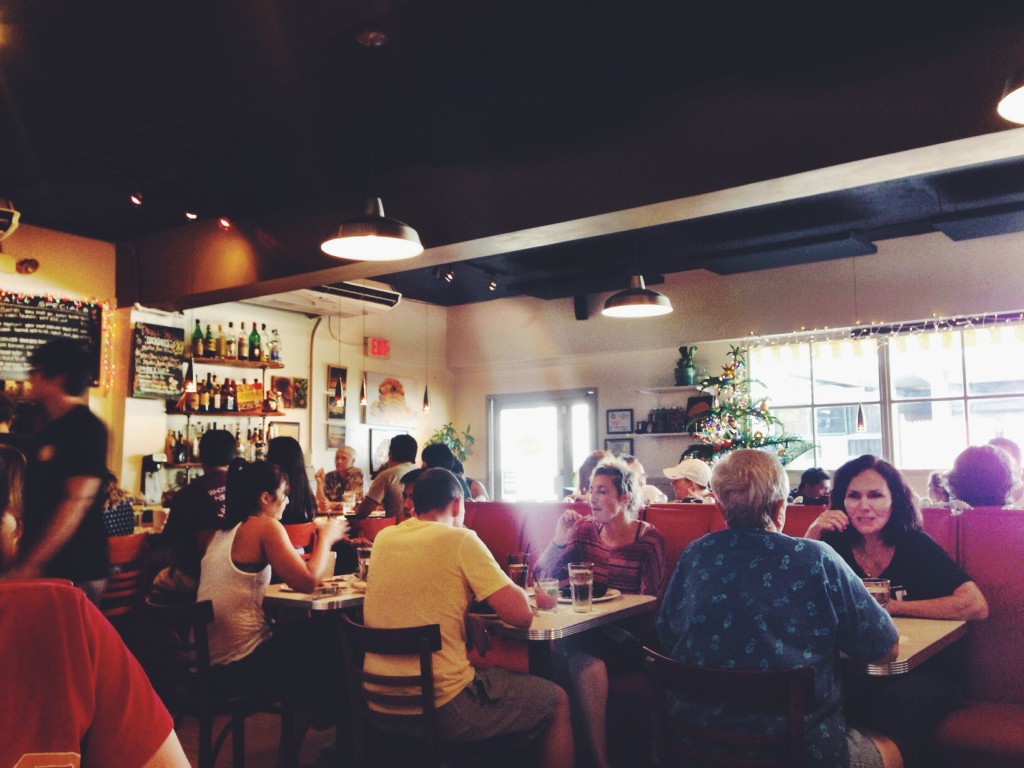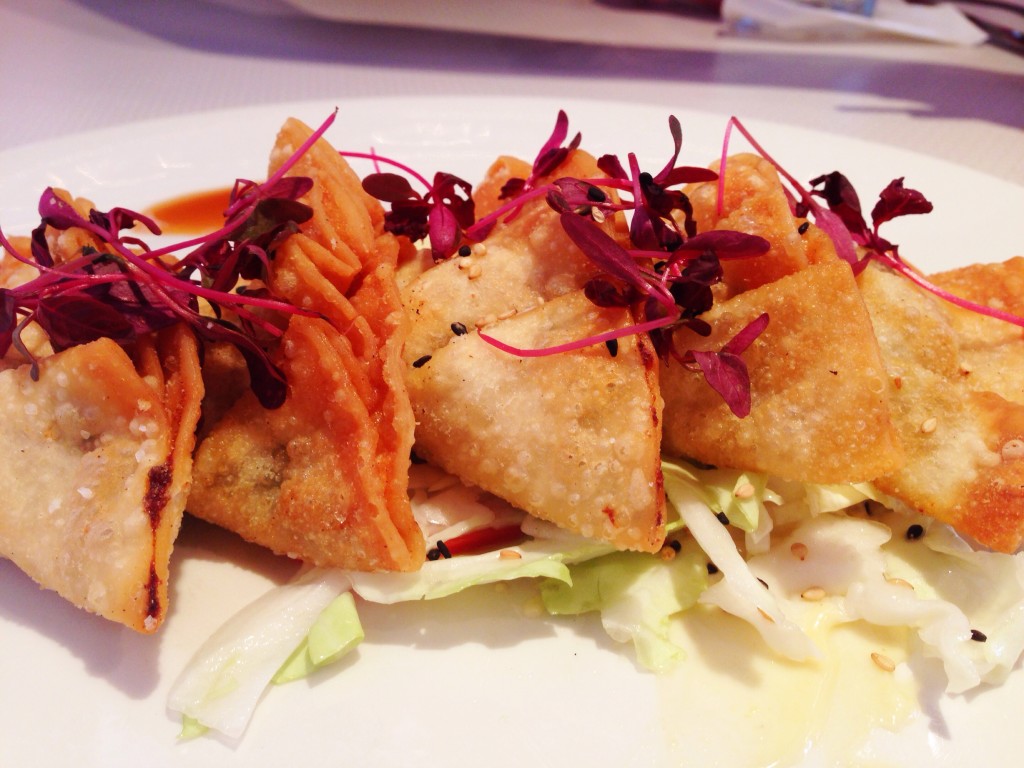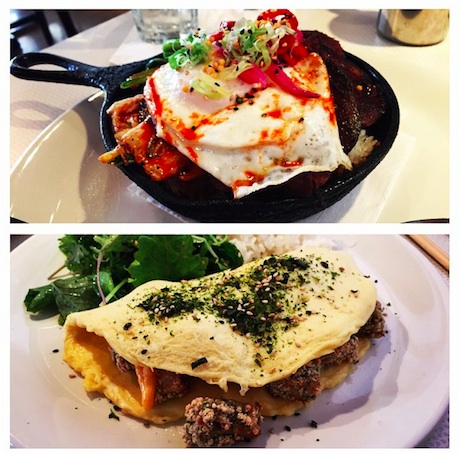 Photo Credit: Husky Monica
We also made a trip to Nobu without a rezzie and were welcomed in their intimate lounge to delightful cocktails and tasty appetizers. I highly encourage you to enjoy a restaurant in their bar area when you don't have a reservation. You can see the action as the bartenders choreograph their work and people watching is fantastic. Plus you won't have to stress about trying to get a table and you can concentrate on checking out the menu.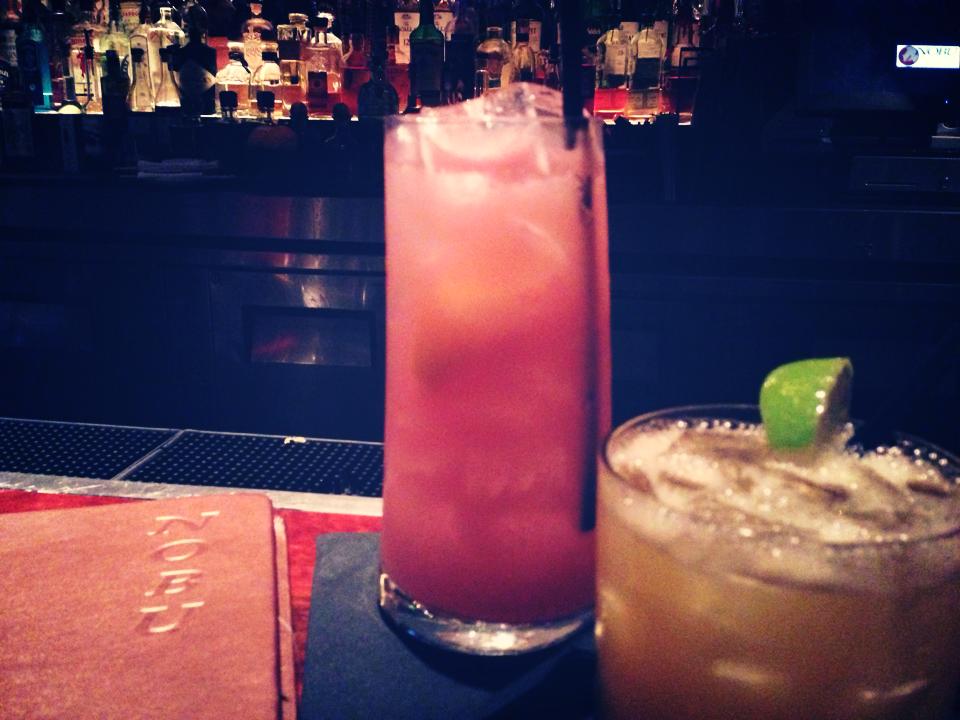 As we've done in the past, we journeyed to the North Shore via car and visited a few new sites, but we had to start with breakfast. When we were in Sydney, Australia we frequented a restaurant called Bill's and the Mister found out that they had opened an outpost in Honolulu and it was in walking distance to our hotel.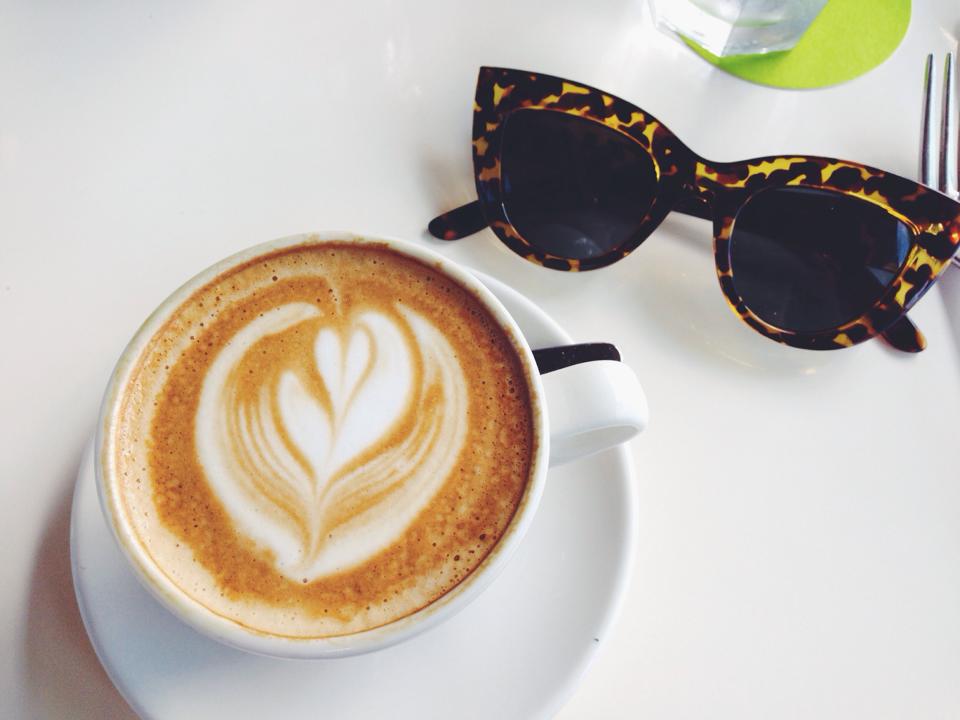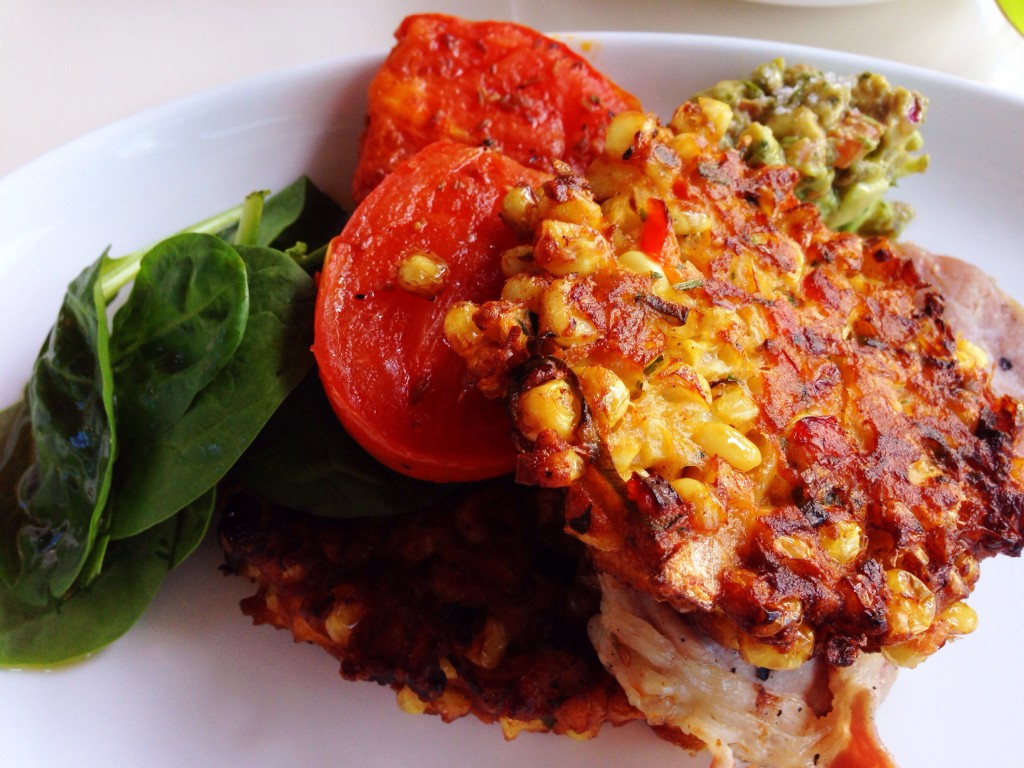 Now that we were fully nourished, we made our way to the Byodo-in Temple in the Valley of the Temples Memorial Park. It's a smaller scale replica of the original 950 year old Byodo-In Temple in Ujin, Japan.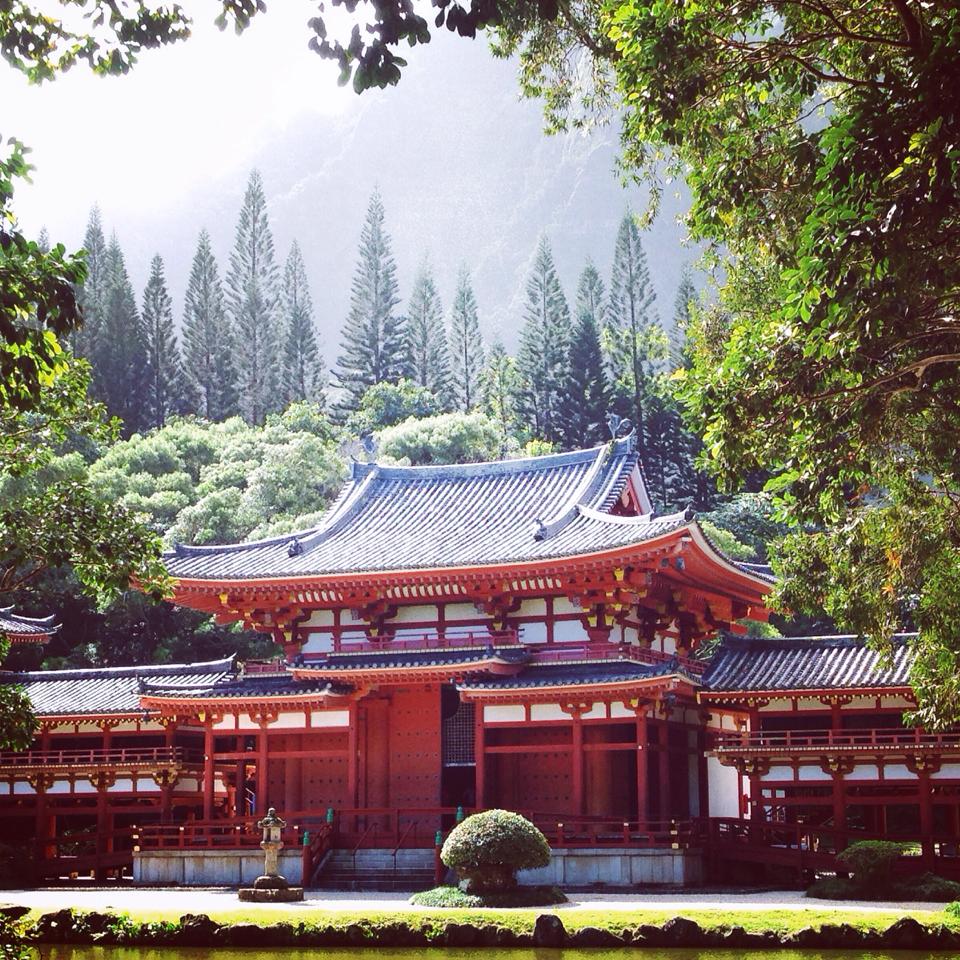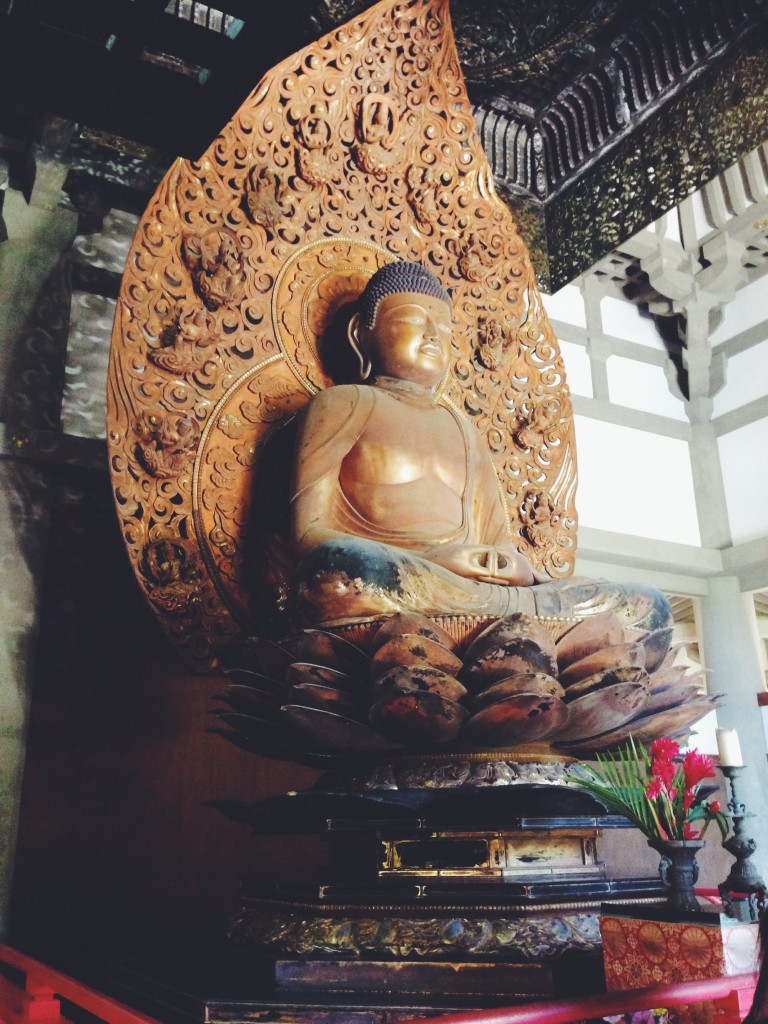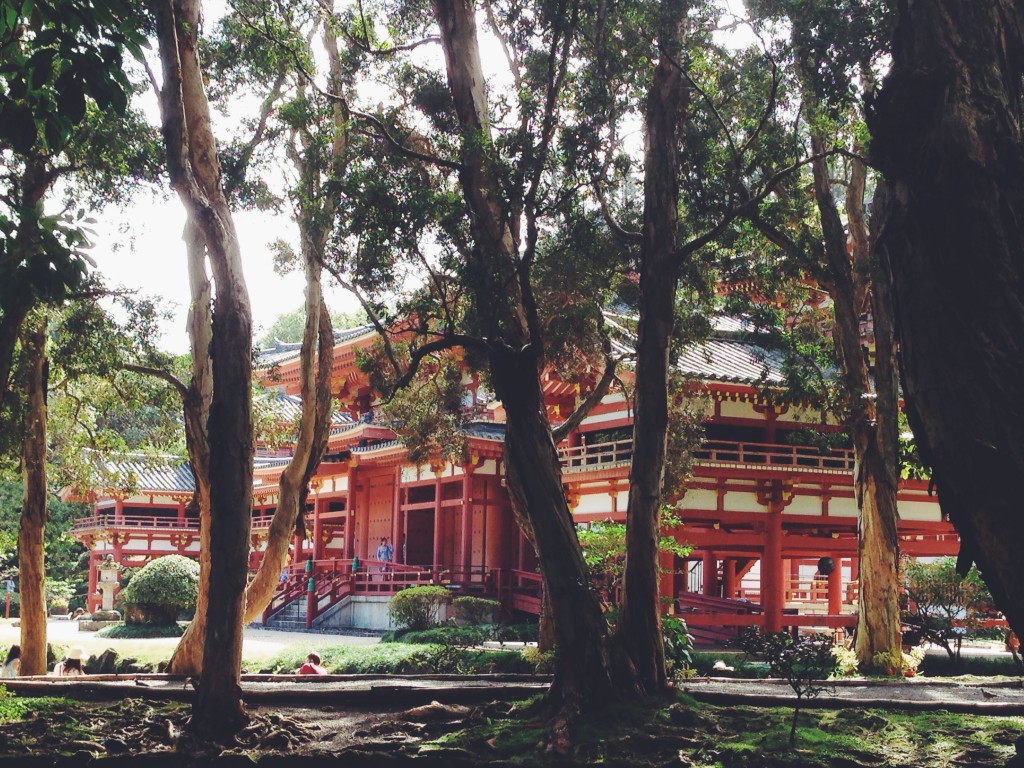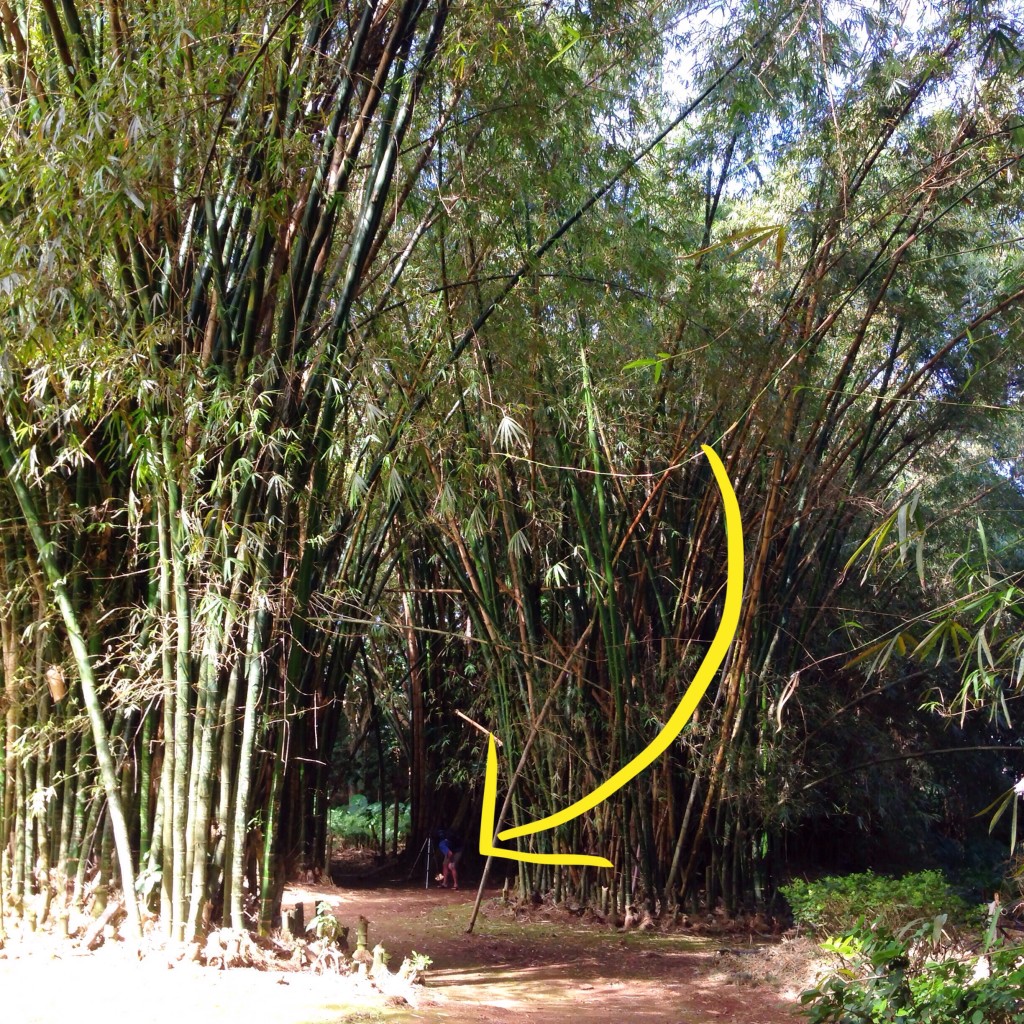 To give you a sense of perspective of how freaking tall the bamboo stalks are check out where the arrow points, that is a grown man setting up a shot on his camera tripod. CRAY CRAY!
We took time to see the Pipeline, the mecca for surfers. The waves were a little choppy but they were still spectacular. It's such an awe of nature to see.
Going to the North Shore also means making a visit to the food trucks. This time we went to Romy's and pro tip: you can call in your order so that you don't have to wait in line and then wait for them to prepare it. One of the things that you should really remember about Hawaii is that there is no such thing as "fast food". A lot of food is made to order so a popular place will have a line and then a wait for the food to be cooked. Be patient and remember that this is Hawaii style.
Just like Nigella Lawson, I like to eat the whole shrimp/pawn without shelling them so it's easy clean up for me. All of that deliciousness on top is GARLIC!! The vampires were staying away that day.
When went to our usual place for shave ice but saw that there were 100 people standing in line – really, no joke! There were sooo many people that we decided to skip it and go to a place we had yet to try, Waiola Store.
One of the most magnificent things that I've ever seen are the sunsets in Hawaii and although it might seem that you're looking at the same thing everyday, the truth is it's really not. The light from the sun, the shape of the clouds, and so many of nature's variables changes how those seemingly similar sunsets are amazingly different. These are from 2 different sunsets and both are equally magnificent, wouldn't you agree?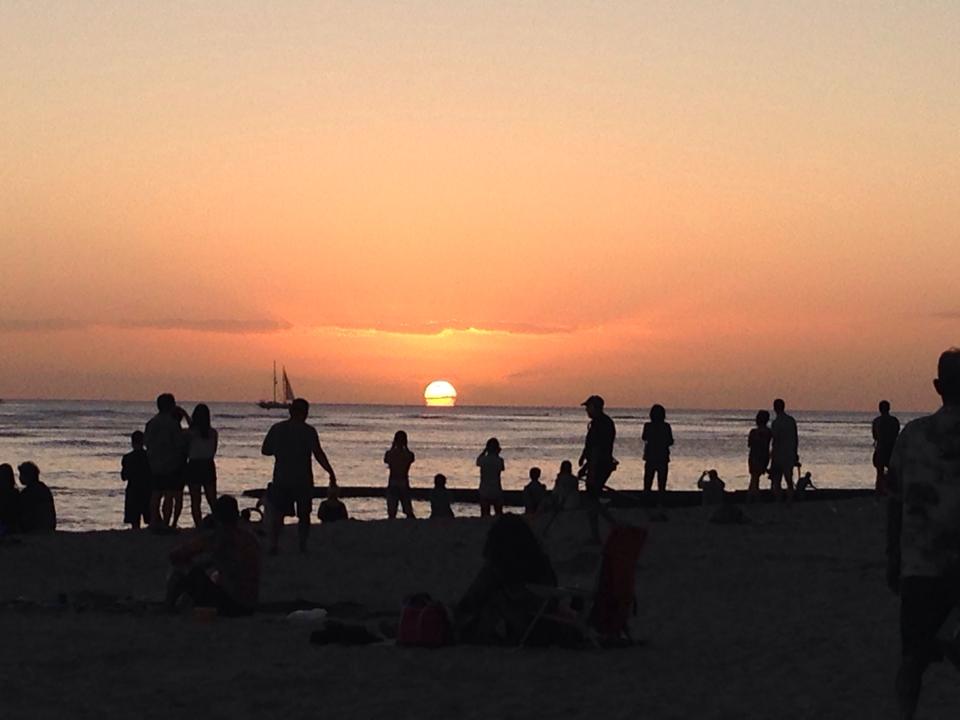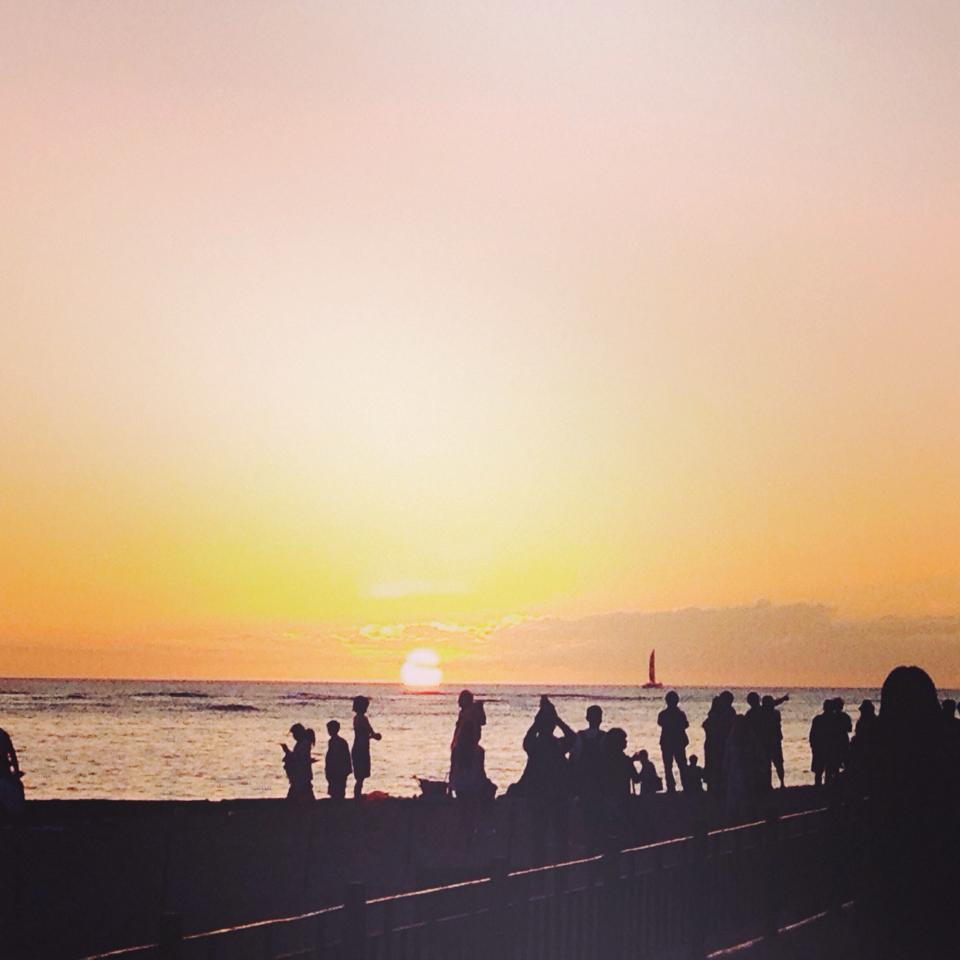 Stay tuned for part two of this Hawaii adventure!
\m/ — MXM — \m/
Royal Hawaiian
2259 Kalakaua Ave.
Honolulu, HI 96815
(808) 923-7311
Leonard's Bakery
933 Kapahulu Ave.
Honolulu, HI 96816
(808) 737-5591
Kilohana Surf School
Ask for Chris
(808) 393-9956
Ramen Nakamura
2141 Kalakaua Ave. #1
Honolulu, HI 96815
(808) 922-7960
CASH ONLY
Side Street Inn
1225 Hopaka St.
Honolulu, HI 96814
(808) 591-0253
KCC Farmers Market
4303 Diamond Head Rd. (Parking Lot C)
Bus Routes #3, 22 58
The Pig and the Lady
83 N. King St.
Honolulu, HI 96817
(808) 585-8255
Koko Head Cafe
1145C 12th Ave.
Honolulu, HI 96816
(808) 732-8920
Nobu
Waikiki Parc Hotel
2233 Helumoa Rd.
Honolulu, HI 96815
(808) 237-6999
Bill's Hawaii
280 Beachwalk Ave.
Honolulu, HI 96815
(808) 922-1500
Byodo-In Temple
47-200 Kahekill Highway
Kaneohe, HI 96744
(808) 239-8811
Romy's
56-781 Kam Highway
Kahuku, HI 96731
(808) 232-2202
Waiola Store
2135 Waiola St.
Honolulu, HI 96826
(808) 949-2269