Crab & Lobster for Four or in my case, for Two
Every year I give up meat for Lent and this year for some reason, I didn't eat any lobster during that time period so I kinda went a little crazy afterwards with this crab & lobster dish. In actuality, it's really 2 separate dishes and I went buck wild with making both of them 🙂
I went to Good Fortune near Seven Corners in Virginia to get my stash of crustaceans. The mall in which its located is in the Eden Center, my people's small little mecca. Here's just some of what can be purchased from the fishmonger.
The prices aren't outrageous and the fishmongers can also clean your whole fish for you and turn them into fillets or keep them whole. Whatever floats your boat. This time I was a little "shellfish" and got a Dungeness crab and a whole lobster.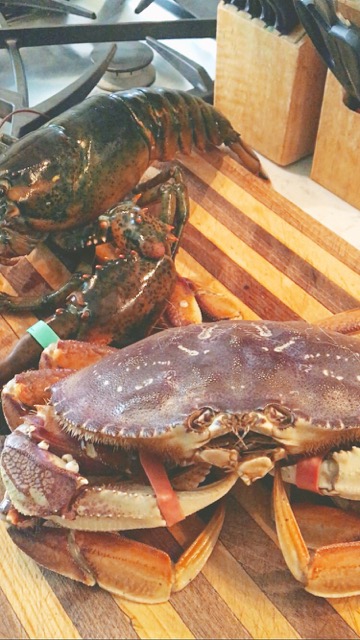 I wanted to make a roasted lobster w herbs and a more Asian style Dungeness crab. I started with the Dungeness. I took the live crab and steamed it until it was cooked and did the cleaning process. Since I'm a Marylander, I'm not shy about getting all up in there to clean the crabs. I haven't been squeamish about that sorta thing since I was in my single digit days. I think I started cleaning my own crabs at like 5 years old 🙂
Cleaning up the Dungeness is basically the same as a blue crab. If you've never done it before, here's a great tutorial. It may seem daunting but there are grooves and crevices that make it easy to cut the Dungeness into pieces. It will need to chill with a marinade before it gets tossed around in oil.

The lobster was cooked similarly. I steamed the lobster and then cut it half so that I could top it with a mixture of herbs and buttaaahhh. I put the halved lobster under the broiler and we were done!

I thought it might be a good idea to include a vegetable although there was already so much food!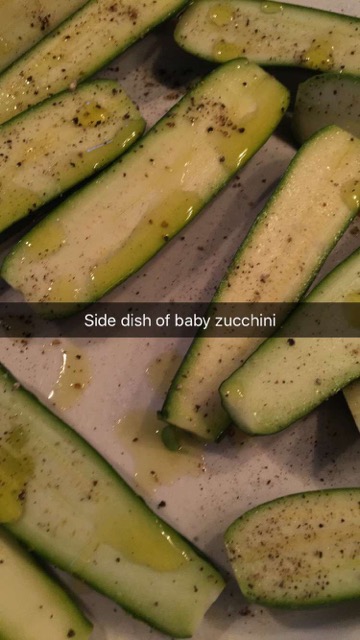 Time to eat!
I was inspired by the crab dishes that are sometimes served in Chinese restaurants so went scouring for the recipes. Of course, I modified it with what ingredients I had on hand but you should get a good sense of what you can do. The main inspiration for the Dungeness was the Cracked Crab with Lemongrass, Black Pepper & Basil and I thought this recipe would be good for another meal, Killer Crab Whole Dungeness Crab Roasted in Garlic Sauce. I went to my favorite Martha Stewart for her Broiled Lobster recipe and it's very simple. The cooking part takes no time. Most of your time is being spent prepping the lobster and the crab for the other ingredients! An easy hack is to have your fishmonger cook the lobster and crab for you and bring it home cooked. You can start from there and it will eliminate those steps.
The amount of food I cooked could easily feed four people but The Mister and I crushed it with just the 2 of us 🙂
Hope you enjoy your Dungeness and lobstaaaahh – don't be shellfish, tell me how do you like yours prepared??
-MXM