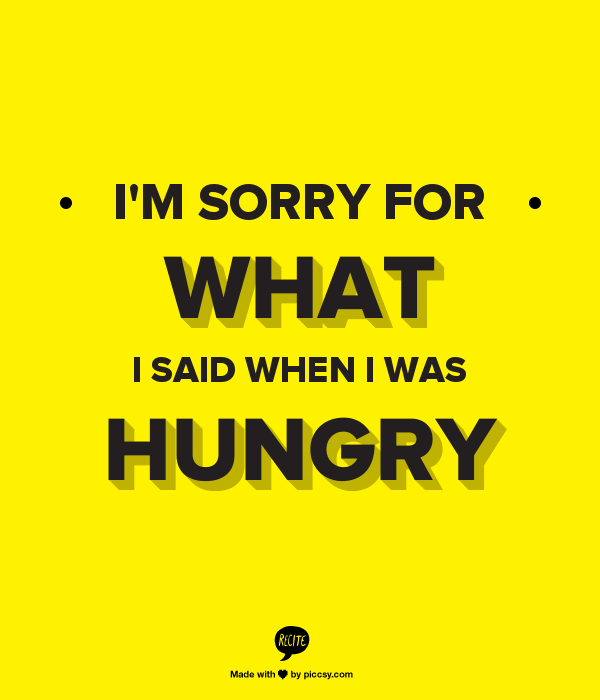 My close friends and I have had numerous conversations about eating healthier and making better decisions to our dining habits, especially when we've run out of time to make dinner after a busy work day.
When I had a little less disposable income and more time, I would make a list of what I would eat for the week. Grocery shopping was a weekly Sunday excursion to buy the ingredients for the meals. Fast forward to present day when my calendar is an explosion of events for work or for other business and it gets more difficult to plan those meals, let alone make them.
In an effort to regain my schedule and to actually use the kitchen that the Mister and I spent so much effort in renovating, I'm going to post the occasional menu as well as recipe inspirations at Maison Awesome. I don't cook everyday and there are moments when leftovers make an appearance, but at least I have some flexibility to eat out of my pantry. We're not so rigid that we only eat what's on the menu but I do try to have a plan so then I don't resort to take out or at the very worst, transform to my HANGRY stage.
MONDAY
Rack of lamb w baked sweet potato and sautéed green beans (so no personal photos but here are a variety of choices for some inspiration!)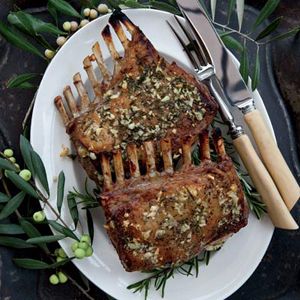 Garlic Crusted Roast Rack of Lamb by Delish.com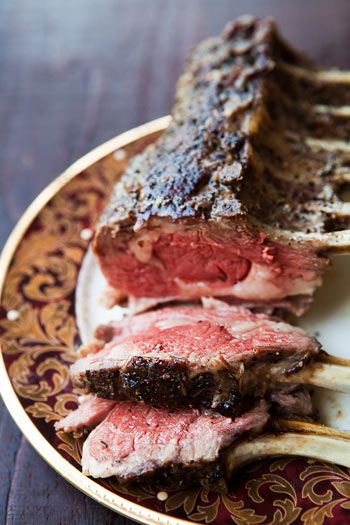 Classic Rack of Lamb by simplyrecipes.com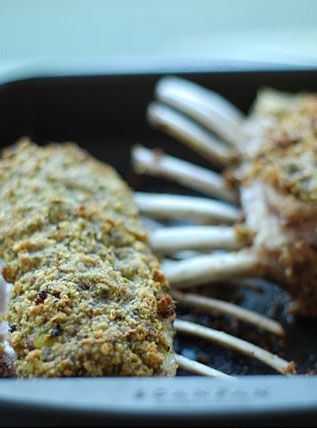 Pistachio Crusted Rack of Lamb by saveur.com
I like to mix dijon mustard + olive oil along w whatever fresh herbs I have on hand (usually Italian flat leaf parsley, thyme + rosemary), fresh garlic + breadcrumbs and spread it on the rack after I've seasoned the rack with salt + pepper and seared it. Afterwards, I put it in the oven to roast for about 10-15 minutes depending on the thickness.
TUESDAY
We actually hosted friends over for dinner!
Chicken & steak fajitas; Mexican style creamed corn; corn stuffed poblano chilies; guacamole; Spanish rice
I wrote a post earlier on Vegetarian Lent, talking about how I used my Meatless Meals cookbook AFTER I finished Lent (where I gave up meat). The recipes for both the Mexican style creamed corn and the corn stuffed poblano chilies came from that cookbook.
Corn Stuffed Poblano Chiles
6 fresh poblano chiles roasted (I just throw them on the open flame and let them char then rub off the skin)
2 garlic cloves, tightly crushed
5 small tomatillos (about 7 ounces), husks removed (this will make the salsa verde but I used an already made salsa from a jar)
1/4 C coarsely chopped cilantro leaves, plus sprigs for garnish
2 Tbsp fresh lime juice (from 1-2 limes)
Coarse salt + freshly ground pepper
1 Tbsp olive oil
2 1/2 C fresh corn kernels (from about 5 ears of corn)
1 C cooked red kidney beans (I used canned although the recipe called for dried beans)
2 oz fresh goat cheese, crumbled
1. With a paring knife, cut a slit down the side of each poblano from stem to tip. Remove seeds, leaving stem intact.
2. In this section would be the directions to make the salsa, if you really want the recipe then get the book, otherwise crack the jar open!! Spread a portion of the sauce in a 9″x13″ baking dish.
3. Preheat oven to 375 degree F. Heat olive oil in a skillet over medium. Cook corn, stirring, until tender, about 3 minutes. Let cool slightly. Toss corn with beans, remaining sauce, and half the goat cheese, season with pepper.
4. Divide mixture among chiles; arrange in prepared dish. Dot with remaining cheese; season with salt. Cover with parchment, then foil. Bake until heated through,a bout 25 minutes. Uncover and let stand 5 minutes. Drizzle with sauce from dish, garnish with cilantro, and serve.
WEDNESDAY
leftovers
THURSDAY
out to dinner for ramen
FRIDAY
Spaghetti w meat sauce
The Mister wanted comfort food so he requested this for dinner.  I browned ground beef and added Italian seasoning while I let a pot of water boil for the noodles. I mixed the meat with the already prepared sauce. I usually make a simple marina style sauce but the Mister bought jarred sauce so I mixed it all together – voila – dinner on a Friday night! See I'm all for making life easy 😉
Let me know what you're eating during the week!
Cheers!
MXM