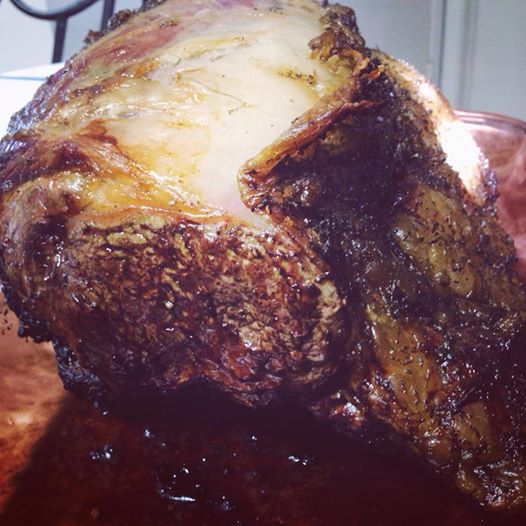 I would say the past decade or so I've given up meat for Lent. I'm not actually not that much of a carnivore but people have noticed my habit of enjoying bacon. Since I usually go to my family's house for Sunday dinner, they've always accommodated my non meat eating by serving fish or some other kind of non meat dish for the entire family to share. I greatly appreciate that they would take the trouble so as a result, I like to thank them by cooking Easter dinner!
This year I cooked a standing beef rib roast, 2 cuts (one w 5 bones and the other with 2 bones) for a total of 14.4 pounds! I did a similar dinner last Easter where I cooked the roasts on the grill. I thought I would do the same until the Mister kept noticing that the flame was going in and out and finally, the grill died. We were out of propane so we had to move the roasts to the oven and hope for the best. I cook my meat by thermometer so checking the internal temperature, I guesstimated how much longer I had to cook it so that we could get it out of the oven and rested before we loaded the car with all the goodies.
Two years ago, I purchased Martha Stewart's Meatless cookbook in preparation for Lent. Needless to say, I didn't use it once while it was Lent and in fact, pulled recipe ideas from it only this year and post Lent at that!
Here are the dishes that piqued most people's interests: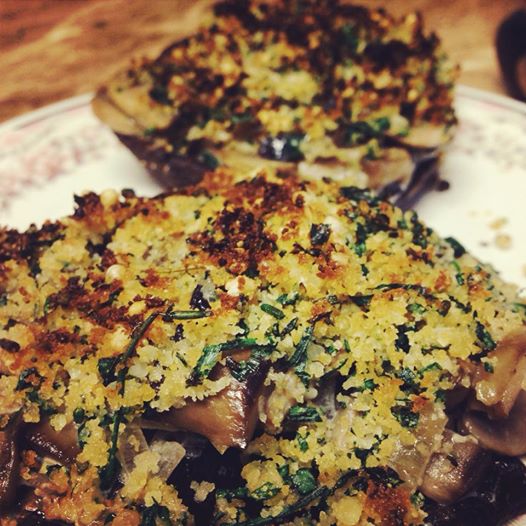 Portobello Gratins (from Martha Stewart Meatless Cookbook)
2 Tbsp extra virgin olive oil, + more for baking sheet
6 portobello mushrooms, stems removed + reserved
1 oz finely grated Parmigiano-Reggiano (1/4 c)
1/4 c plain dry bread crumbs
3 Tbsp finely chopped fresh flat leaf parsley leaves
3 Tbsp snipped fresh chives
2 shallots, thinly sliced
1 lb white or cremini mushrooms, thinly sliced
1/2 c heavy cream
Coarse salt + freshly ground pepper
1. Preheat over to 350 degree F. Lightly oil a rimmed baking sheet. Arrange portobello caps, gill sides down, on sheet. Bake until tender, 20-25 minutes.Transfer to a plate to cool. Heat broiler w rack 6 inches from the heat source.
2. Stir together cheese, bread crumbs, 1 Tbsp parsley, 1 Tbsp chives, + 1 Tbsp oil.
3. Chop portobello stems into 1/2″ pieces. Heat remaining Tbsp oil in a large skillet over medium until hot but not smoking. Add shallots; cook, stirring, until softened, about 2 minutes. Add sliced mushrooms + chopped stems; cook, stirring occasionally, until tender, 6-7 minutes. Add wine; cook until most of the liquid had evaporated, about 2 minutes. Stir in cream + remaining parsley + chives, and season w salt + pepper. Remove from heat.
4. Arrange caps, gill sides up, on a clean baking sheet. Divide mushroom mixture + then crumb mixture among caps. Broil until bubbling + golden brown, about 2 minutes. Serve immediately.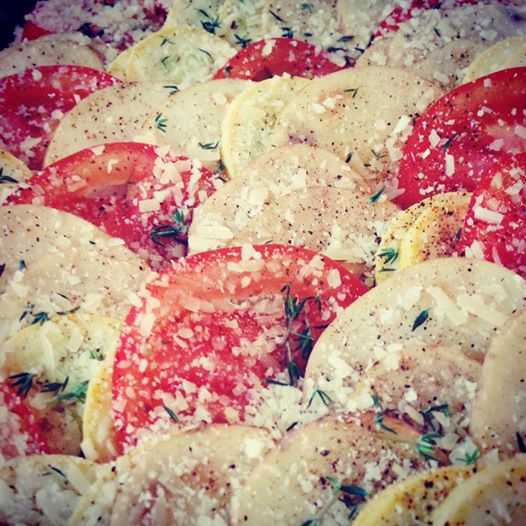 Tomato, Squash & Potato Tian (from Martha Stewart Meatless Cookbook)
2 Tbsp extra virgin olive oil, + more for drizzling
1 onion, thinly sliced
2 small tomatoes, sliced 1/4″ thick
1 yellow summer squash, sliced 1/4″ thick
1 Yukon gold potato, sliced 1/4″ thick
Coarse salt + freshly ground pepper
1 Tbsp fresh thyme leaves
2 Tbsp freshly grated Parmigiano-Reggiano
1. Preheat oven to 375 degrees F. Heat olive oil in a medium skillet over medium. Cook onion until tender + lightly golden, stirring frequently, 6-8 minutes.
2. Arrange the onion in an even layer on the bottom of a 9×13 baking dish. Layer the tomato, squash + potato on top of the onion, alternating the vegetables & overlapping slices slightly. Season w salt + pepper, sprinkle w thyme + cheese; drizzle w oil.
3. Cover w parchment, then foil; bake 30 minutes. Uncover + bake until golden 30 minutes. Serve warm.
I honestly enjoy vegetables immensely so I hope you tell me how you do with these recipes!
Cheers!
MXM