Breaking in the New Kitchen
I usually go to family dinner on every Sunday so that I can visit with my family. They live all of  10 miles away so going to get homemade Vietnamese food on the weekly is an added benefit of visiting!
Since the Mister and I moved back to the house, we decided that hosting my family would be the 1st get together and then we could have friends over later to check out the remodeled digs. I'm used to hosting a lot of people. I may have grown up as an only child but my dad was a big believer in having friends over for dinner and gatherings. My mom was always ready to entertain people on short notice. My work life demands that I'm always planning events so doing parties of any size is no big deal.
I grew up with an Asian perspective in hosting parties which translates to if you leave hungry, it's your fault. There's usually an abundance of food and beverage so even when I was in my early 20s, there was no such thing as chips and beer for a party. I think I did that once and people thought I was un-well. The 1st thing I usually plan is the menu. For my family, they like it when I do some kind of roast. I usually cook Christmas Eve dinner and Easter dinner so roasting is sorta my niche. I rarely cook them Asian food because really, my mom and aunties are the masters. I'll stick to my own wheelhouse!
Since we were celebrating in the early days of October, I went with an autumnal harvest theme. I usually make apple cider doughnuts in the fall for my family so I made the aforementioned apple cider and a pumpkin spice. So dessert was done! In a nod to the Mister's Irish roots, I made a Sunday roast of roast beef and since I love pork and so does my family, I did a maple mustard pork shoulder that I turned into pulled pork. I didn't want any real starch so I made quinoa cakes as a side and a grilled corn, avocado, and tomato salad. The signature beverage was a white sangria mixed with julienned green apples and honeycrisp apples. It was a lovely day to celebrate in the backyard and to showcase all of the renovations.
The following weekend we had our friends over and although the weather didn't quite cooperate, people still had a good time checking out the place and we enjoyed hosting our friends and colleagues. That menu was a little different. Since I really wanted to celebrate my paternal German roots, we went with an Oktoberfest theme: smoked brats and regular brats cooked in beer; German style potato salad; a string bean and roasted golden beet salad w herbed goat cheese; and a German Chocolate cake along with a triple chocolate bundt cake. When we're doing large parties, I usually cook a few days in advance and refrigerate everything for easier prep but this party was smaller than most and the food only took a few hours to put together so I did everything on the same day. I even sat on the couch and watched a few hours of "Whose the Boss?" and took a nap!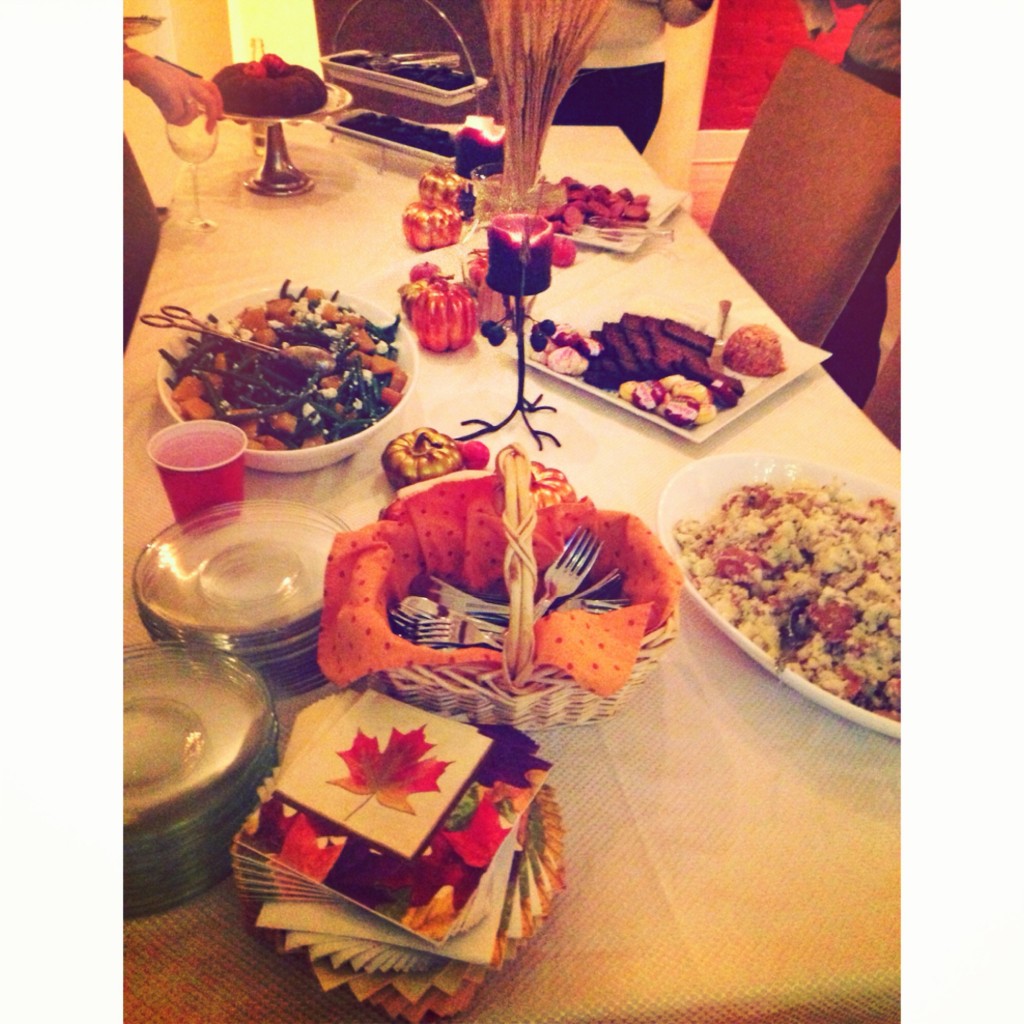 Now with the renovations done, it's nice to get back in the groove of having people over for dinner or just hanging out. I posted a few pics earlier on facebook and instagram (@madalenemielke) and people asked for the recipes. Mind you, I don't actually follow the ingredients for cooking all the time, only when baking because baking is more like chemistry to me. So although I used these recipes as inspiration, I know that I didn't follow them precisely.
Here are the recipes!
The most requested was the quinoa cakes – I really was a doofus with this recipe. When I added the ingredients, I forgot to include the eggs and flour!!! As a result, the 1st batch were a little different in texture but just as tasty. The 2nd batch (where I did add the eggs and flour) was a bit more wet so I set them in the refrigerator after I shaped them into the patties, although the recipe didn't call for it. They were easier to handle to get them into the skillet after they were refrigerated. I likened these to potato latkes. To me they had the same texture and flavor. They were a hit w the fam and the Mister, who thought they tasted lighter than latkes.
Maple mustard pulled pork – Since this was a recipe from the BBC, I converted and played around with the temperatures. In my experience, when you cook meat for this long (8 hours!!) you really can't screw it up! We hadn't unpacked the sea salt so I used kosher salt and because I was feeding more people, I bought a bigger cut of pork shoulder. This was the Mister's favorite.
Sunday roast – to be perfectly honest, I didn't use a recipe. Since the roast is pretty simple – salt/pepper, some herbs and throw it into the oven, there are different ways you can cook it. In this instance I threw it in a hot oven (450 degrees) for 30 minutes then turned the temperature down to 325 degrees and cooked it until medium rare. Since I was cooking a total of 6lbs of red meat in 2 different sized portions, I had to watch the clock and use my meat thermometer to make sure I didn't overcook it. This is like roasting chicken, there are a myriad ways to get to the same result.
Grilled corn, avocado and tomato salad – we're in the last days of corn at the farmer's market and I was excited to get it locally. If you click on the link, you will see that I didn't use a few ingredients, namely the pancetta (pork lover in me was a little sad) and the red pepper. I ended up adding the other ingredients (avocado and tomato) because I had them on hand.
The doughnuts! – apple cider and pumpkin spice – can you believe I ran out of cinnamon?? Fortunately I had Jamaican allspice so I substituted that for the cinnamon!
Since the Mister has been watching the Red Sox play in the lead up to the World Series, I was a little stressed out watching them recently so I made another batch of the pumpkin spice doughnuts! I didn't want to do a glaze so I sprinkled powdered sugar.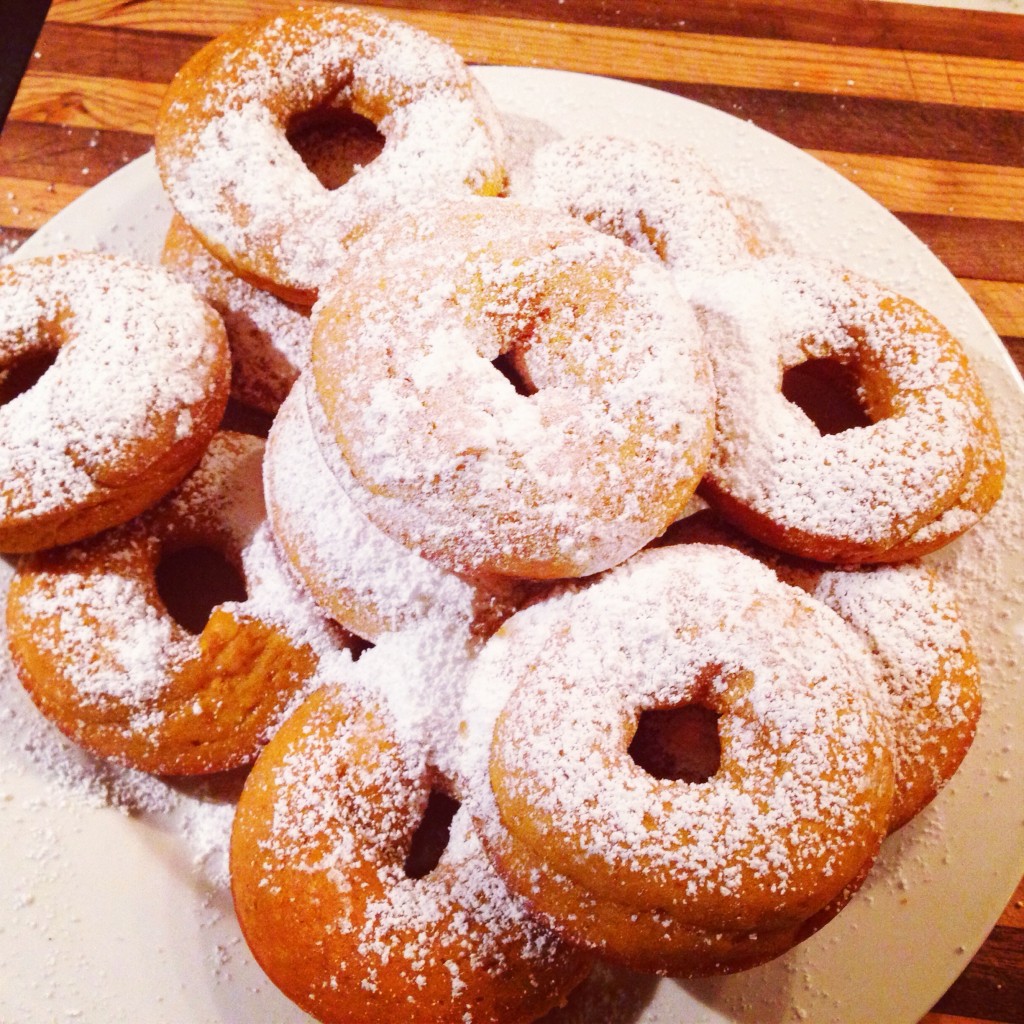 The apple sangria – we didn't have Riesling so we went with the substitution suggestion and added the Pinot Grigio.
Obviously, I'm not by the book cook 🙂
Brats and beer – no recipe really for that either – I sliced up a ton of sweet onions and let them cook in the beer then added the brats and added more beer to cover. Most people grill them after they've cooked in the beer for a few but we chose to take them out and slice them up.
German style potato salad – I looked at a recipe and did my own – sliced and boiled new potatoes until done; drained them and in a small bowl mixed up dijon mustard, whole grain mustard, oil, salt & pepper, parsley, mustard powder, apple cider vinegar and poured the vinaigrette over the still warm potatoes; mashed it up a bit so that it became chunky. That's it – don't ask me about the measurements – I cooked 10 lbs of potatoes so I made a lot of vinaigrette!
String bean and roasted beet salad – no recipe – just cook the string beans until al dente and throw your quartered beets in olive oil into an aluminum foil wrapper for about an hour until cooked through; chill everything and mix w crumbled herb goat cheese; toss w your favorite balsamic vinaigrette – voila!
German Chocolate cake – I left out the chocolate chips.
Triple Chocolate bundt cake – I let the cake go naked and let the chocolate speak for itself.
These days, I usually bake my cakes from scratch but when I was growing up, I always used cake mix to bake cakes for my dad so making these was a nice way to honor him.
Let me know how you like the recipes and what you're cooking for your next PAR-TAY!!!
Cheers!
MXM